A cancer diagnosis can be life changing. Physical, emotional, mental, and social challenges arise when a life-threatening disease like cancer occurs. Even low-risk, early-stage prostate cancer (PCa) has implications that ripple throughout all levels of a man's awareness.
During the days, weeks and months of their PCa journey, patients often examine their lifestyle choices. Have they been eating too many processed foods? How long has it been since they saw the inside of a gym? Has the stress at work gotten worse since the overbearing manager was hired? Even though it's not even New Year's Eve, many patients start making resolutions to clean up their lives. I've had patients come in for an MRI a year after their treatment and they seem transformed. They are 20 pounds lighter, have great energy, and look younger. Some report their relationship has never been better, while some have gotten out of a bad marriage. Occasionally, they've made a career move and are settling in to an entirely different profession. While some of this might have happened anyway—perhaps as the result of a midlife crisis or other circumstance—in many instances it was their PCa that jolted them out of complacency. Their lives have been changed as a result.
Spiritual deepening
Aside from all the practical aspects, many of my patients have been confronted with a less tangible, but no less real, dimension of being a human being. It's what holocaust survivor Viktor Frankl described as the search for meaning. It runs deep, as if they feel disconnected from some purpose or mystery in life they can't put their finger on. "Is there more to life than this?" is a question that comes up in times of a repeated drama crisis at home, being stuck in a boring rut, struggling to get out of debt, or finding out a you have a disease that could kill you. Where do you turn to find answers?
Spirituality can be described as an awareness of something greater or larger than oneself and the ordinary things of one's life, something that could give a profound sense of peace and purpose in life. Sometimes it comes with a sense connection to that greater thing. Even nonbelievers or those who do not practice a particular religion may be stirred to ask questions that philosophers and theologians have long pondered.
Spirituality can also play a role in their treatment decisions, as described by the authors of a study on PCa:
Spirituality appeared to influence all aspects of the cancer experience. Most participants intensified their use of spiritual practice after a diagnosis of prostate cancer. These practices included spiritual ceremonies, indigenous healing, prayer, meditation, and use of spiritual imagery. Themes related to the role of spirituality in cancer management include beliefs about Western medicine, the role of spiritual beliefs in treatment decision making, the use of spiritual imagery and metaphor in healing, and the impact of cancer on spirituality.[i]
Many clinicians who specialize in treating cancer patients recognize that patients need physical, emotional, mental and social resources for their journey with this disease, but they may also need sources of spiritual strength. Many studies have revealed that patients who have a positive outlook that comes with a spiritual perspective and wisdom actually have better treatment outcomes.
Strength for the spirit
CancerCare, a 75-year old national organization that provides support on all levels for cancer patients, offers these tips for boosting one's spirit during the cancer journey:
Take time regularly to meditate or pray. This can bring a sense of calm and stability during difficult times.
Read spiritual writings. These can include the Bhagavad Gita, the Bible, the Quran or other faith based texts. Delving into sacred texts can put you in touch with ancient traditions of wisdom and give you a sense of connection with a more divine reality. Recently published books on spirituality can also give new insights.
Seek the help of others. You might begin an ongoing dialogue with your clergy or counselor, or join a group for meditation, prayer and support.
Retreat to spiritual spaces, natural settings, concerts or museums. Visiting such places may help you cultivate a sense of peace.
Keep a journal to express your feelings, thoughts and memories. This can contribute to your process of self-discovery and development.[ii]
No two PCa patients are alike. So many factors and influences in each patient's life leading up to his diagnosis will have a bearing on the path to treatment, recovery, and the years beyond. Spirituality may prove to be a source of enrichment and enlightenment, providing a foundation of consoling peace, and a springboard to a purposeful life beyond the cancer journey.
Download Our Free Ebook: "How to Manage Prostate Cancer Anxiety"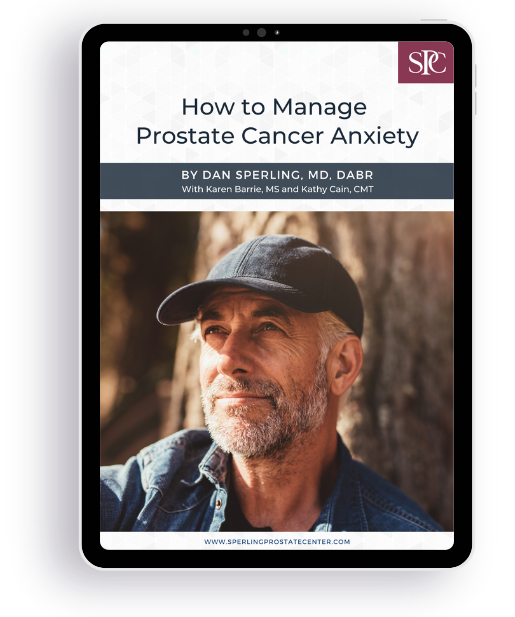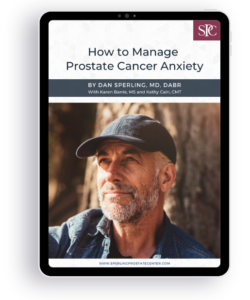 Don't let anxiety over prostate cancer run you. Instead, learn how you can take charge and empower yourself to manage stress and boost positive treatment outcomes with our "first aid kit" of practical tips and tools.
DOWNLOAD NOW
NOTE: This content is solely for purposes of information and does not substitute for diagnostic or medical advice. Talk to your doctor if you are experiencing pelvic pain, or have any other health concerns or questions of a personal medical nature.
[i] White M, Verhoef M. Cancer as part of the journey: the role of spirituality in the decision to decline conventional prostate cancer treatment and to use complementary and alternative medicine. Integr Cancer Ther. 2006 Jun;5(2):117-22.
[ii] https://www.cancercare.org/publications/56-strengthening_the_spirit