What's trending now? One only has to look around to get a sense of what's trendy, be it cars, fashion, workout programs, home decorating colors, etc. Trends occur in medicine, too. Urgent care facilities now make 24/7 access to professional care available, and telemedicine brings it right into your home. So much for the old-fashioned general practitioner who brought along a black doctor's bag to house calls!
In the world of prostate cancer (PCa), there is a trend toward holistic care that aims to treat the whole person. It is creating a multimodality "cocktail" of healing resources for body, mind and spirit. This isn't just some kind of pop psychology jargon. There is biological proof that combining both tangible and intangible modalities can alter prostate cancer itself. For instance, check out a 2008 study.
An important study
The study is titled, "Changes in prostate gene expression in men undergoing an intensive nutrition and lifestyle intervention."[i] It was led by Dean Ornish, MD with a team that included University of California PCa experts Peter Carroll, MD and Katsuto Shinohara, MD. It presents the results of the GEMINAL study (Gene Expression Modulation by Intervention with Nutrition and Lifestyle), a small but powerful single arm pilot experiment. What makes it a stand-out is the physical evidence it produced, based on biopsies, that lifestyle changes indeed modify genes involved in cancer development and management!
Thirty-one PCa patients were enrolled for a clinical study of multimodality lifestyle interventions. All patients met the PSA eligibility requirements, and went on to have a baseline needle biopsy before beginning the experimental interventions. All biopsies revealed Gleason 3 + 3 PCa and all participants declined an immediate primary treatment (surgery, radiation or hormones). They then began the study's comprehensive 3-month protocol that included the following modalities:
Initial 3-day intensive residential retreat, followed by weekly phone contact with a study nurse
Whole-foods, plant-based diet (all food provided during the study)
Dietary supplements (soy, fish oil, vitamins E and C, selenium)
60 minutes per day of stress management (gentle yoga-based stretching, breathing, meditation, imagery, progressive relaxation)
30 minutes per day of moderate aerobic exercise (walking) for 6 days per week
1-hour group support session per week
Study results
At the end of the study, all participants underwent a repeat biopsy. This meant that each patient had donated a pair of tissue samples (one at the study beginning, one at the end) for genomic analysis to find out if their genes had changed during the 3 months. What do you think they found? Before I reveal the genomic results, let me share other changes that could be measured using a scale, stethoscope, blood pressure cuff and blood draw. Before the protocol, many of the men exhibited cardiovascular risk factors (overweight, high cholesterol, high blood pressure, and elevated triglycerides. During the study, they continued to take any medications they were already on. After the study, there was statistically significant improvement in body mass index, waist circumference, and a positive change in the percent free PSA. Triglyceride levels dropped, though not at statistical significance. Before the study ended, one patient reduced his statin dose. Furthermore, the worry and anxiety experienced before the program began was considerably reduced. The study was worth these benefits alone! But here's the scientific PCa proof I mentioned earlier. After sophisticated laboratory-based techniques that detect and quantify targeted DNA molecules, the research team found that
…many disease-promoting genes (including those associated with cancer, heart disease, and inflammation) were down-regulated or 'turned off,' whereas protective, disease-preventing genes were up-regulated or 'turned on.' For example, a set of cancer-promoting oncogenes called RAS was down-regulated in these men…Another gene that suppresses tumor formation called SFRP was up-regulated, thereby reducing the risk of cancer.[ii]
Today's multimodality trend for Prostate Cancer
Ornish and others continued to dig more deeply into the effects of lifestyle changes, exploring (and documenting) the impact of lifestyle programs such as the above on telomeres, the protective DNA–protein complexes at the end of linear chromosomes that promote chromosomal stability. In 2013, Ornish, et al.[iii] published results of a similar study with 10 PCa patients and 25 controls, showing that in the PCa patients their lifestyle protocol was linked with increases in telomere length in the patients vs. the controls after 5 years of follow-up. (Short telomere length is also associated with aging.)
Flash forward to a 2019 published review of randomized, controlled PCa studies on diet and lifestyle interventions.[iv] It states that the best recommendation for PCa patients is "to form a habit of wellness through healthy eating, aerobic and resistance exercise, and psychological well-being." The authors also found evidence of benefit from the kind of guided imagery and relaxation exercises used in the GEMINAL study. Thus, the multimodality trend is the logical extension of published science since 2008, and supports a holistic "cocktail" for gaining body, mind and spirit health among PCa patients.
Download Our Free Ebook: "How to Manage Prostate Cancer Anxiety"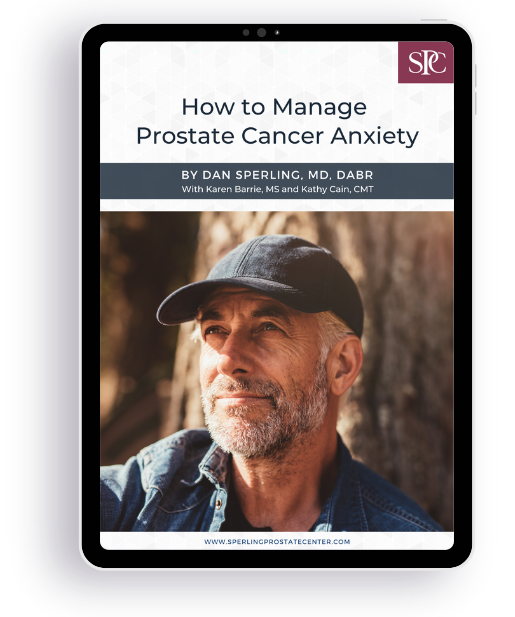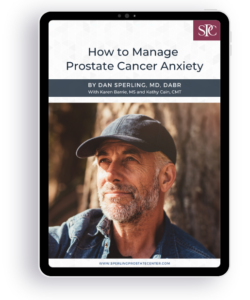 Don't let anxiety over prostate cancer run you. Instead, learn how you can take charge and empower yourself to manage stress and boost positive treatment outcomes with our "first aid kit" of practical tips and tools.
DOWNLOAD NOW
NOTE: This content is solely for purposes of information and does not substitute for diagnostic or medical advice. Talk to your doctor if you are experiencing pelvic pain, or have any other health concerns or questions of a personal medical nature.
[i] Ornish D, Magbanua MJ, Weidner G, Weinberg V et al. Changes in prostate gene expression in men undergoing an intensive nutrition and lifestyle intervention. Proc Natl Acad Sci U S A. 2008 Jun 17;105(24):8369-74.
[ii] Ornish, D. "Your Lifestyle can Change Your Genes." Prostate Cancer Communication, June 2011. (Originally published by Prostate Advocates Aiding Choices in Treatment, Grand Rapids, MI. No longer available online).
[iii] Ornish D, Lin J, Chan JM, Epel E et al. Effect of comprehensive lifestyle changes on telomerase activity and telomere length in men with biopsy-proven low-risk prostate cancer: 5-year follow-up of a descriptive pilot study.Lancet Oncol. 2013 Oct;14(11):1112-1120.
[iv] Zuniga KB, Chan JM, Ryan CJ, Kenfield SA. Diet and lifestyle considerations for patients with prostate cancer. Urol Oncol. 2019 Jul 18. pii: S1078-1439(19)30247-9.