UPDATE: 3/21/2022
Originally published 3/14/2019
Let's start with research on the effects of exercise programs for cancer survivors, including prostate cancer (PCa). Khosravi, et al. (2019)[i] surveyed published literature on the topic, and found 27 relevant trials that included information on biomarkers before and after exercise. The data showed that exercise interventions (aerobic, resistance or combined training or Tai Chi/yoga) lowered pro-inflammatory markers, particularly for prostate and breast cancer patients. This is important for cancer patients, since many cancer therapies can lead to chronic inflammation, a condition that taxes the body's resources.
What about PCa patients who are newly diagnosed and have not yet undergone any treatment for their cancer? The more recent work of Kaushik, et al. (2021)[ii] assures us that practicing yoga has numerous benefits for this population. The authors note that the diagnosis itself, and the process of undergoing treatment, creates anxiety, fear and depression in up to a third of patients—feelings that reduce quality of life (QOL) as well as triggering an inflammatory fight-or-flight response. To explore whether yoga can ease worries and enhance QOL, the researchers randomly assigned 29 newly diagnosed PCa patients to either a standard-of-care group, or a standard-of-care plus 6 weeks of yoga group. Their findings demonstrated that the yoga group gained compelling benefits beyond standard-of care alone: better functional QOL, better immune function (more T-cells in circulation), biological antitumor activity, and reduced pro-inflammatory markers. They concluded that for newly-diagnosed PCa patients, "Yoga is feasible in this setting and has benefits that require further investigation."
Yoga for prostate cancer? It all began with the side effects of radiation treatment for prostate cancer (PCa). External beam radiation may be the right treatment for certain patients, but it can have downsides because it affects healthy cells as well as the cancer cells.
Most of radiation's side effects are not severe and patients can tolerate them. Most patients report fatigue, but other effects include:
Urination changes or difficulties
Blood in the urine
Urinary leakage
Abdominal cramping
Diarrhea
Painful bowel movements
Rectal bleeding or leaking
Fatigue
Sexual dysfunction, including diminished erectile function or decrease in the volume of semen
However, if side effects become less tolerable or more pronounced, immediate action is important. The first step, of course, is to communicate with the doctor because the sooner problems are managed, the better the odds that short term quality of life improves, and long term complications are avoided.
The second step is patient empowerment, and here's where yoga comes in. A 2016 pilot study showed that it was feasible to enroll PCa patients undergoing radiation therapy to attend twice-weekly yoga classes for the purpose of evaluating the impact on treatment side effects.[iii] This was followed a year later by publication of a randomized Phase II trial in which 22 radiation treatment patients were randomly assigned to a yoga class (twice weekly during their radiation treatments) and 28 to no class.[iv] The authors reported that compared with the control group, the results for those in the yoga group were associated with "…a significant reduction in pre-existing and RT-related fatigue and urinary and sexual dysfunction in PCa patients." Thus, yoga helped patients cope with their treatment side effects.
Report from China
A news story from China confirms that yoga helps patients with prostate and other types of cancer cope with treatment effects. In fact, the benefits of yoga extend more broadly into other areas of patients' lives as well. What's unique about this particular story is the fact that it's about male-only yoga classes. In China, as in many other cultures, men have shied away from yoga classes where the majority of participants are women, thereby missing out on what yoga can offer.
According to the story, three male cancer patients using support services at a center called CancerLink attended a yoga class along with 50 female patients. The men felt self-conscious and tended to try to find a corner away from the group. Finally, CancerLink began offering male-only classes led by trained leaders who themselves were cancer survivors. Instead of doing the more demanding yoga poses, the men "engaged in deep breathing techniques and gentle stretching to help them relax, raise their body awareness, and boost their balancing skills and pliability."
Shiao-kuang Hsueh Maddox, CancerLink's head of wellness and holistic care programs, observes, "Men have a different body structure, muscle and bone structures are different, so we thought … we can have men's yoga classes, where they can come and relax and not feel competition with women who may be more flexible." In fact, participants report that they have formed their own special social connection.
Besides the camaraderie and greater physical flexibility, yoga brings the men greater calm, less depression and anxiety, better handling of stress, better overall coping with treatments like chemotherapy or radiation, greater inner strength, peace of mind, and overall improved quality of life.
Worry and stress create negative effects in the body that burden the immune system. As yoga helps practitioners develop deeper serenity and become more adept at stress management, the body responds positively. Organ systems function more naturally and the immune system is liberated to perform as nature designed it to do. In turn, this can enhance the body's ability to survive longer.
It is no wonder that cancer patients in general (and prostate cancer patients in particular) have a growing interest in alternative modalities to support conventional clinical practice. Yoga is an obvious choice because classes are readily available everywhere; cancer patients also find that practices such as meditation or tai chi complement and even boost the anti-cancer properties of surgery, radiation, chemotherapy, etc.
Since prostate cancer is a men's disease, it makes sense that tailoring support programs just for them provides a safe environment to harness their inner desire for wellness—one of their best resources for a favorable outcome on the journey with cancer.

Download Our Free Ebook: "How to Manage Prostate Cancer Anxiety"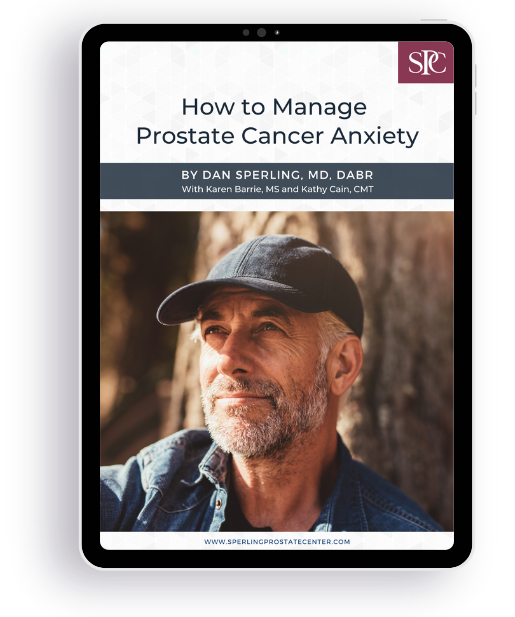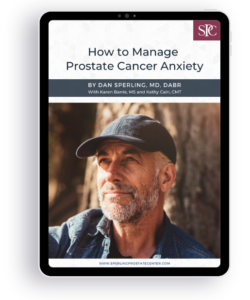 Don't let anxiety over prostate cancer run you. Instead, learn how you can take charge and empower yourself to manage stress and boost positive treatment outcomes with our "first aid kit" of practical tips and tools.
DOWNLOAD NOW
NOTE: This content is solely for purposes of information and does not substitute for diagnostic or medical advice. Talk to your doctor if you are experiencing pelvic pain, or have any other health concerns or questions of a personal medical nature.
[i] Khosravi N, Stoner L, Farajivafa V, Hanson ED. Exercise training, circulating cytokine levels and immune function in cancer survivors: A meta-analysis. Brain Behav Immun. 2019 Oct;81:92-104. doi: 10.1016/j.bbi.2019.08.187. [ii] Kaushik D, Shah PK, Mukherjee N, Ji N, et al. Effects of yoga in men with prostate cancer on quality of life and immune response: a pilot randomized controlled trial. Prostate Cancer Prostatic Dis. 2021 Nov 23. doi: 10.1038/s41391-021-00470-w. [iii] Ben-Josef AM, Wileyto EP, Chen J, Vapiwala N. Yoga Intervention for Patients With Prostate Cancer Undergoing External Beam Radiation Therapy: A Pilot Feasibility Study. Integr Cancer Ther. 2016 Sep;15(3):272-8. [iv] Ben-Josef AM, Chen J, Wileyto P, Doucette A et al. Effect of Eischens Yoga During Radiation Therapy on Prostate Cancer Patient Symptoms and Quality of Life: A Randomized Phase II Trial. Int J Radiat Oncol Biol Phys. 2017 Aug 1;98(5):1036-1044.