UPDATE: 12/20/2021
Originally published 7/5/2017
Metastatic castration-resistant prostate cancer (mCRPC) is a scary diagnosis. Castration-resistant means that hormone therapy) depriving the body of male hormones) can no longer halt the cancer's inevitable spread. Thankfully, advances in immunotherapies and other drugs do extend life, and survival for hormone-resistant patients now averages 32 months. However, the long months on hormone therapy have taken their toll on the patient's overall health: "…these therapies have severe cardiovascular and metabolic effects; negatively impact cognitive, psychological, muscle, and bone health; and may lead to decreased cardiorespiratory fitness, frailty, and reduced quality of life…"
[i]
This is where exercise can play a key role in counteracting the side effects of hormone treatment, as hypothesized by the multinational INTERVAL study (INTense ExeRcise for surviVAL Among Men With Metastatic Prostate Cancer) described in our 2017 blog below. The benefits include increased bone and muscle mass, stronger heart and improved cardiovascular fitness, support for the immune system, and better psychological wellness by combatting depression and anxiety. The design of the INTERVAL study was published in 2018[ii], and the clinical trial is still open and recruiting.
Then, November 2021 saw the publication of the results of a randomized clinical trial of high intensity aerobic and resistance training program. The 12-week study, called CHAMP (A Clinical trial of High?intensity Aerobic and resistance exercise for Metastatic Prostate cancer) was conducted by several U.S. academic medical centers plus one out of Australia. 23 participants were randomly assigned to three groups: aerobic exercise, resistance training, or a control group.[iii] An interesting aspect of the study was the fact that the program was monitored remotely, in order to demonstrate that such a protocol can be done without participants traveling to a central location for oversight. The authors reported that the majority of men assigned to an exercise group completed or exceeded the exercises as prescribed. Their improvements in performance corresponded to the type of exercise. No safety concerns were observed, and 90% of participants were satisfied and would recommend the program to others.
What about patients who are unable to tackle intense exercise? A British feasibility study was designed in 2018 to test an at-home program of less intense exercise. Although the results are not yet published, the premise of the study is that moderate aerobic and strengthening home-based exercise can be a beneficial supplemental therapy to counteract the side effects of hormone deprivation in men with metastatic prostate cancer. We heartily encourage all prostate cancer patients to incorporate exercise at any ability level, as research continues to grow on the ways it helps manage cancer.
I have previously written about the role of exercise in lowering the risk of developing prostate cancer (See https://sperlingprostatecenter.com/news-flash-exercise-may-decrease-risk-prostate-cancer/). In fact, quite a bit of research has been published about actual changes in the gene mechanisms that control tumor activity as a result of exercise. As a firm believer in our ability to prevent prostate cancer—or any cancer, for that matter—I was excited to read about a new study being launched by the University of Montreal Hospital Research Centre.[iv]
This study goes beyond preventing prostate cancer from developing. Instead, the goal of the study is to enroll 900 men with advanced prostate cancer (spread beyond the gland) and explore the life-prolonging effects of intense exercise.
Dr. Fred Saad of the Centre is leading the international experiment, done in collaboration with Robert Newton, professor at the Edith Cowan University Exercise Medicine Research Institute in Australia. The study has already begun enrolling men in Ireland and Australia, and eventually 60 sites will be involved in recruiting patients into it. Dr. Saad has such faith in exercise that he describes it as acting like an anticancer drug in the battle against existing metastatic disease. Think about it: if you had cancer that had spread to your bones, would you add exercise into your treatment program if you knew it could help control the disease progression?
According to Dr. Saad, the men in the study will continue on their medical protocol. According to the study design, half will receive psychosocial support with general exercise guidelines and recommendations to do with as they wish. The other half will participate in a specially designed workout that includes an hour a day of supervised aerobic and resistance training for three days each week (for the first 12 months). At the start of the second year, they will hopefully continue on their own. Both groups will be tracked in terms of their quality of life, and physical measures (blood samples and muscle biopsies) will be used to analyze the benefits of exercise.
Professor Newton explained, "We will evaluate quality of life, appetite, and treatment tolerance in relation to their improved physical condition." According to Dr. Saad, "People with cancer develop all sorts of complications related to metastases, such as fractures or severe pain. It is hoped that exercise will strengthen muscles and bones." In addition to helping patients do better with their therapy, Drs. Saad and Newton's main hypothesis is that exercise has a direct impact on the prostate cancer cells themselves. If so, this clinical study will add greatly to the evidence that for men with advanced prostate cancer, exercise extends life while boosting quality of life.
If you know someone with advanced prostate cancer who might be interested in participating, you can get more information on the clinical trial locations at http://www.ClinicalTrials.gov: https://clinicaltrials.gov/ct2/show/NCT02730338?term=INTERVAL+and+prostate+cancer&rank=2.
Download Our Free Ebook: "How to Manage Prostate Cancer Anxiety"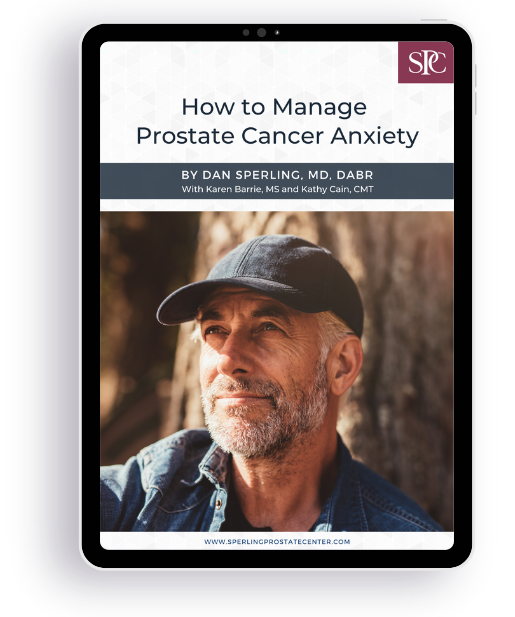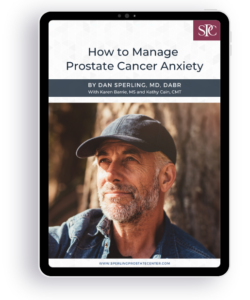 Don't let anxiety over prostate cancer run you. Instead, learn how you can take charge and empower yourself to manage stress and boost positive treatment outcomes with our "first aid kit" of practical tips and tools.
DOWNLOAD NOW
NOTE: This content is solely for purposes of information and does not substitute for diagnostic or medical advice. Talk to your doctor if you are experiencing pelvic pain, or have any other health concerns or questions of a personal medical nature.
[i] Kenfield SA, Van Blarigan EL, Panchal N, Bang A et al. Feasibility, safety, and acceptability of a remotely monitored exercise pilot CHAMP: A Clinical trial of High-intensity Aerobic and resistance exercise for Metastatic castrate resistant Prostate cancer. Cancer Med. 2021 Nov;10(22):8058-8070.
[ii] Newton RU, Kenfield SA, Hart NH, Chan JM et al. Intense Exercise for Survival among Men with Metastatic Castrate-Resistant Prostate Cancer (INTERVAL-GAP4): a multicentre, randomised, controlled phase III study protocol. BMJ Open. 2018 May 14;8(5):e022899.
[iii] Kenfield et al, Ibid.
[iv] "Exercise, Future Anticancer Therapy?" Eureka Alert, May 24, 2016. http://www.eurekalert.org/pub_releases/2016-05/uomh-efa052016.php