At first glance, the title question appears to have a self-evident answer. Everyone knows that a good workout program that includes at least 150 minutes of aerobic exercise is advantageous for the body's cardiovascular system. This increases the chance of a long life in good health. And of course, we're all aware that aerobic fitness gives us more energy, better sleep, and even improved stress management. In addition, the immune system is strengthened by a practice of physical activities[i], and maintaining a fully functioning immune system can play a role in the body's defenses against cancer. In short, whether or not you have prostate cancer (PCa), a regular fitness program is one key to a healthy longevity.
Exercise and Active Surveillance
"Well, sure," you might say, "but is there a particular benefit if you're on Active Surveillance (AS) for prostate cancer?" In fact, a 2021 report out of the University of Alberta (Edmonton, Canada) is based on The Exercise During Active Surveillance for Prostate Cancer (ERASE) trial.[ii] This was a single-center, 2-group, phase 2 randomized clinical trial conducted at the University. There were 52 participants who were on AS for very low risk to favorable intermediate risk PCa. They were randomly assigned to one of two groups:
A high-intensity interval training (HIIT) group (12 weeks of supervised aerobic sessions 3 times per week, performed on a treadmill at 85-95% peak oxygen consumption.
A usual care group maintaining their normal exercise level.
In addition to evaluating improvements in cardiorespiratory health, the researchers also tested whether such exercise could delay the biochemical progression of PCa (assessed by PSA blood tests) during AS.
In fact, they found that the men in the HIIT group experienced lowering PSA levels and decreased PSA velocity vs. those in the usual care group. The researchers also wrote that the HIIT exercise program "inhibited the growth of prostate cancer cell line LNCaP in this patient population."
These results mesh perfectly with results published in 2008 by Ornish, et al., showing that intensive lifestyle changes, including exercise and diet, influenced gene expression such that men on AS had improved control of their tumor cells.[iii] In addition, I have previously written about the effect of high-intensity exercise on reducing the presence of chronic inflammation, a precursor to cancer.
The University of Alberta team is onto something very important that warrants larger studies. Since more and more PCa patients with low-risk disease are embarking on high quality AS protocols that include PSA and multiparametric MRI (mpMRI) for monitoring, exercise is a no-brainer way to keep PSA low and help the body keep tumor cells manageable.
If you're not already committed to a regular aerobic program of vigorous exercise, you have nothing to lose and everything to gain. To paraphrase Shakespeare, if you're on AS for PCa, get thee to a gym (or your preferred workout location)!
Download Our Free Ebook: "How to Manage Prostate Cancer Anxiety"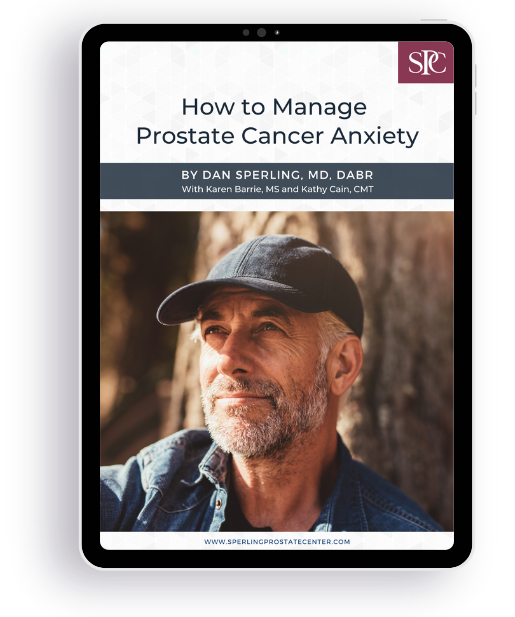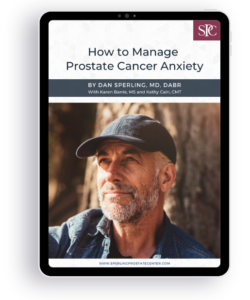 Don't let anxiety over prostate cancer run you. Instead, learn how you can take charge and empower yourself to manage stress and boost positive treatment outcomes with our "first aid kit" of practical tips and tools.
DOWNLOAD NOW
NOTE: This content is solely for purposes of information and does not substitute for diagnostic or medical advice. Talk to your doctor if you are experiencing pelvic pain, or have any other health concerns or questions of a personal medical nature.
[i] da Silveira MP, da Silva Fagundes KK, Bizuti MR, Starck É, Rossi RC et al. Physical exercise as a tool to help the immune system against COVID-19: an integrative review of the current literature. Clin Exp Med. 2021 Feb;21(1):15-28.
[ii] Kang DW, Fairey AS, Boulé NG et al. Effects of Exercise on Cardiorespiratory Fitness and Biochemical Progression in Men With Localized Prostate Cancer Under Active Surveillance: The ERASE Randomized Clinical Trial. JAMA Oncol. 2021;7(10):1487-1495.
[iii] Ornish D, Magbanua MJM, Weidner G, Weinberg V et al. Changes in prostate gene expression in men undergoing an intensive nutrition and lifestyle intervention. PNAS June 17, 2008 105 (24) 8369-8374.