Here's a little quiz…
What diet was ranked best overall and easiest to follow by U.S. News & World Report in 2019?
What do beans, spices and olive oil have in common?
The answer to the first question is, the Mediterranean Diet.[i] And the answer to the second is, these three foods are among the key elements in this top-ranked diet.
The Mediterranean Diet
Following the Mediterranean Diet (MD) is good for your prostate because it is anti-inflammatory. This means it focuses on foods that help protect against chronic inflammation, a known precursor for prostate cancer (PCa). MD is ancient. Its history goes back 12,000 years to the development of agriculture in the Near East region known as the Fertile Crescent. Grains, olives, nuts, legumes and other components of the today's MD came to be cultivated by the ancestors of today's farmers.
A nonprofit organization called Oldways is devoted to rediscovering the healthy and sustainable traditions of other cultures, including ancient ones. To help promote the MD, they developed a Mediterranean Diet Food Pyramid[ii] that illustrates MD principles: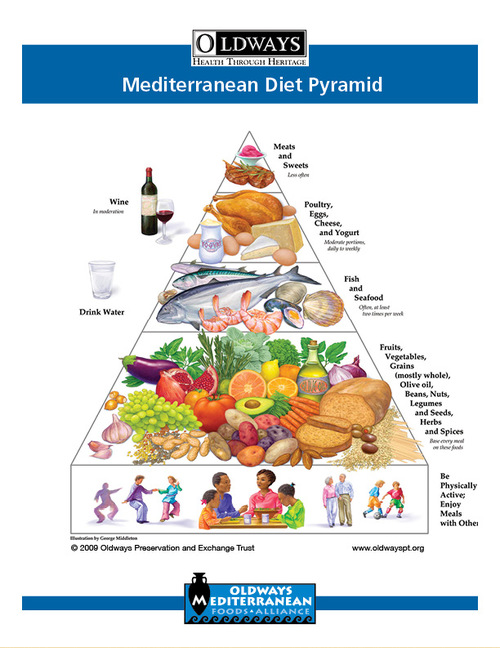 Starting from the base up, it depicts the proportions of foods included in this ancestral nutrition plan. Following it means that every day your meals include vegetables, fruits, beans, whole grains, spices and herbs, nuts, and healthy fats like olive oil. Twice a week you eat fish and seafood. Your weekly portions of dairy, eggs and poultry are moderate. As for red meat and sweets—infrequent!
MD reduces prostate cancer risk
I have previously written about the value of anti-inflammatory diets in combatting the ills associated with chronic inflammation, especially PCa. But don't just take my word for it. A number of published studies demonstrate that eating the MD way is linked with reduced PCa risk. Here are three samples:
Schneider et al. (2019)[iii] used records on African American and European American PCa patients from the North Carolina-Louisiana Prostate Cancer Project (PCaP) to explore the relationship between aggressive PCa and nutritional patterns (the MD and the DASH diet, also considered anti-inflammatory). They found that the MD was more strongly associated with reduced risk of aggressive PCa than the DASH diet. Results were similar for both ethnicities in the study. This may be particularly noteworthy for African American men who are generally held to be at greater PCa risk than European American men.
Jalilpiran et al. (2018)[iv] compared the dietary habits of 60 men with newly-diagnosed PCa vs. 60 controls. They identified two diet patterns, the Western diet (high in refined foods, red meat and unhealthy fats) and the Mediterranean diet. The Western diet was associated with greater PCa risk while the MD was not.
Capurso & Vendiamale (2017)[v] conducted a review of published literature on the correlation of MD and the risk/mortality of PCa. They concluded that "…our narrative review allows us to reaffirm how nutritional factors play an important role in cancer initiation and development, and how a healthy dietary pattern represented by MD and its components, especially olive oil, could exert a protective role by the development and progression of prostate cancer."
The takeaway message is obvious. Eating along the lines of the earliest farmed foods and readily available healthy fats and fish is healthier than the Western diet most Americans are consuming in today's world. We don't know if those ancient farmers had less prostate cancer than we have today, but it's worth maximizing nature's anti-inflammatory, dietary prostate protection.
NOTE: This content is solely for purposes of information and does not substitute for diagnostic or medical advice. Talk to your doctor if you are experiencing pelvic pain, or have any other health concerns or questions of a personal medical nature.

---
[i] https://health.usnews.com/best-diet/best-diets-overall
[ii] https://www.oldwayswebstore.org/mediterranean-diet-pyramid-poster/
[iii] Schneider L, Su LJ, Arab L, Bensen JT et al. Dietary patterns based on the Mediterranean diet and DASH diet are inversely associated with high aggressive prostate cancer in PCaP. Ann Epidemiol. 2019 Jan;29:16-22.e1.
[iv] Jalilpiran Y, Diantinasab M, Zeighami S, Bahmanpour S et al. Western Dietary Pattern, But not Mediterranean Dietary Pattern, Increases the Risk of Prostate Cancer. Nutr Cancer. 2018 Aug-Sep;70(6):851-859.
[v] Capurso C, Vendemiale G. The Mediterranean Diet Reduces the Risk and Mortality of the Prostate Cancer: A Narrative Review. Front Nutr. 2017; 4: 38.