Anxiety. Mental fog. Emotional Issues. Fatigue. If you knew the prostate cancer (PCa) treatment you're leaning toward would lead to a long-term future with such problems, would you still choose it? A man newly diagnosed with localized PCa has to ponder numerous short- and long-term outcomes in order to decide which treatment path to follow. Most patients are offered the conventional menu: active surveillance, radical prostatectomy, external beam radiotherapy or brachytherapy. Since each patient's future is on the line, doctors should discuss all treatment approaches and the impact each might have on health-related quality of life (HRQoL).
No one has a crystal ball that can foretell treatment outcomes. It's all about probability. Of course, everyone hopes for 100% success in defeating the cancer itself, and the odds of that are very favorable. When PCa is diagnosed at an early, low-risk stage, over 95% of treated patients appear cancer-free at 5 years after diagnosis; for patients who choose active surveillance (AS), they have the benefit of adding even more time plus their usual quality of life prior to treatment.
Success is referred to as oncological control, meaning a high degree of confidence that the cancer is handled and the patient need not worry about it. Freedom from fear is, of course, a large part of HRQoL. However, that is not the only outcome to consider. This is where treatment side effects come in, because each treatment choice has its own side effect probabilities. Anticipating side effects is equally as important as managing expectations of oncological control.
Statistical side effect profiles
An interdisciplinary team (urology and oncology) out of Seattle Medical Center compiled likely side effect profiles for each of the conventional treatment methods as well as active surveillance. Using a review of published literature, they selected four randomized studies and 15 prospective cohort studies for their statistical analysis (Ford et al., 2022) of patient reported outcomes. They offer the following summary of current evidence[i]:
Radical prostatectomy has the largest short- and long-term negative effects on sexual function. However, it offers advantages regarding bowel function and irritative-obstructive urinary symptoms.
Radiation, both external beam and brachytherapy, mainly impacts urinary irritative symptoms and bowel bother, though many beam radiation patients experience short-term fatigue.
Active surveillance offers the most favorable cancer-related quality of life in the short term. The patient has no treatment-related side effects during the months—and hopefully years—of monitoring.
As far as the longer term mental and emotional issues listed at the beginning of this blog, which can diminish HRQoL, the authors report that the likelihood seems roughly equivalent among the
conventional treatment methods. This implies that urinary, sexual and bowel side effects must be primary considerations in projecting post-treatment QoL.
Since each treatment modality has its own particular profile in terms of probably HRQoL, if a patient could time-travel into his future, what he would witness might very well inform his actual decision upon his return to the present. Or, an accurate crystal ball would be a lot less hassle (and cheaper) than a time machine trip. Unfortunately, such resources don't exist.
This is why the study authors emphasize doctors' and patients' understanding of adverse event profiles, and their probability of occurring. Based on our own newly diagnosed patients' wishes, they still want to preserve urinary and sexual function in addition to controlling their cancer. In today's medical practice, professional societies and national PCa patient education/advocacy organizations are promoting the importance of patient-centered discussion. Choosing a PCa treatment should not be a roll of the dice, but rather the informed product of the best available knowledge based on research, and the patient's QoL priorities.
Finally, it's frustrating but true that the standard menu of treatment options is missing an important modality: focal ablation. In that sense, the list provided by doctors to their patients lacks full transparency. Focal treatment, such as our Center's Focal Laser Ablation, adds a middle ground option between whole gland treatments (surgery, radiation or brachytherapy) and active surveillance. For appropriate candidates, if affords the benefits of comparable oncologic control as well as minimal risk of treatment side effects. When patients have this real-time MRI guided outpatient treatment, they return to their usual life activity within days, free from worrying about PCa. It doesn't take a crystal ball to predict that the vast majority of patients who undergo a focal therapy will experience the most favorable HRQoL attainable after PCa treatment. For more information, contact Sperling Prostate Center.
Download Our Free Ebook: "How to Manage Prostate Cancer Anxiety"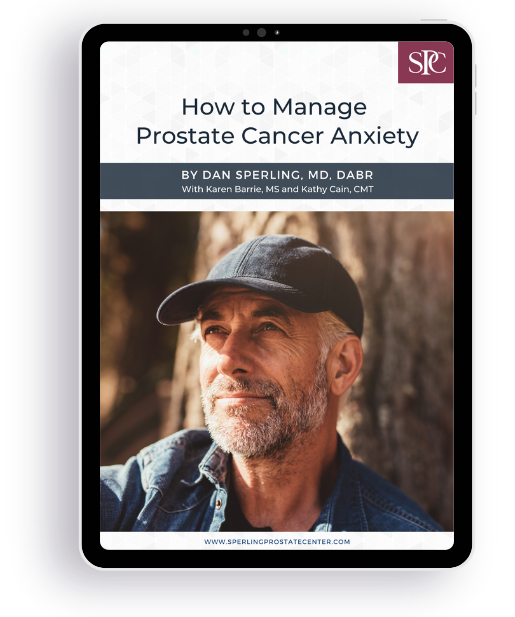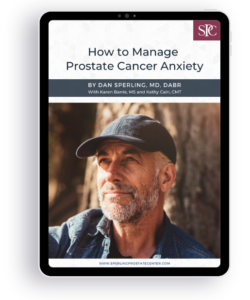 Don't let anxiety over prostate cancer run you. Instead, learn how you can take charge and empower yourself to manage stress and boost positive treatment outcomes with our "first aid kit" of practical tips and tools.
DOWNLOAD NOW
NOTE: This content is solely for purposes of information and does not substitute for diagnostic or medical advice. Talk to your doctor if you are experiencing pelvic pain, or have any other health concerns or questions of a personal medical nature.
[i] Kord E, Flores JP, Posielski N, Koenig H, Ho O, Porter C. Patient reported outcomes and health related quality of life in localized prostate cancer: A review of current evidence. Urol Oncol. 2022 Jul;40(7):304-314. doi: 10.1016/j.urolonc.2022.04.008.