UPDATE: 10/27/2021
Originally published 6/25/2015
We all know the expression, "Oldie but goodie." The blog below, one of the earliest we posted on our website, is an oldie, but it's still good and accurate as far as general information. However, the prostate cancer (PCa) diagnosis and treatment landscape has seen some dramatic advances over the past 8 years. Most notably, multiparametric MRI has improved precise and specific diagnostic information as well as the ability to monitor tumor activity for men who opt for Active Surveillance. In fact, more men than ever are safely choosing AS. In addition, focal treatment for qualified patients is now a standard of care, so patients who aren't comfortable with the idea of cancer living in their body but who don't want to risk their urinary and sexual function have a middle-ground alternative between AS and radical treatment.
In order to make sure our original suggestions are in step with the times, add the following 6 questions:
How do you view the balance between cancer control and quality of life after treatment?
Am I a candidate for Active Surveillance? If so, how would I be monitored?
Am I a candidate for Focal Therapy? If so, how would I be monitored?
Are you comfortable with me exploring other treatment options and speaking with other specialists (urologists, radiation oncologists, medical oncologists) before deciding upon a final plan of action? (Thanks to Prostate Cancer Foundation for this great question!)
How many patients have you treated for prostate cancer?
May I speak with one or two of your former patients?
It is our philosophy that every PCa patient is entitled to comprehensive, accurate information about his disease and the choices available to him, as well as their risks. Asking the right questions, and aligning the answers with what's most important to you, puts you on the path of the best treatment match for your unique situation. We hope these suggested questions help.
Diagnosis of prostate cancer brings forth a mixed variety of feelings — from anger to disbelief to depression. The good news is that various treatments for prostate cancer are now available, making it possible for newly-diagnosed patients to lead a healthy life following diagnosis. In addition, we often assure our patients here at our prostate treatment center practice that prostate cancer is slow-growing in comparison to other forms of cancer.
Learning about the disease and figuring out one's treatment options are the initial steps to improving one's outlook of the diagnosis and relieve feeling of anxiety. 
To learn more about the condition and to be able to make an informed decision concerning diagnostic exams and treatments, it pays to ask questions. In addition, it may also be more worthwhile to record the conversation between you and your doctor so that you can review the answers.
 The set of questions below could serve as a guide during your consultation following diagnosis of prostate cancer: 
What is the stage of my cancer? Has it already spread? If yes, how far?
What additional tests do I need?
What are my treatment options at this stage of my condition?
What are the possible risks and benefits of the treatment you're recommending?
What possible side effects should I expect with this type of treatment?
Is there something that I can do to improve the success of my preferred treatment?
What do you think about me getting a second opinion?
Do you know of any support group for people like me?
Are there other available resources where I can read and learn more about my condition?
Prostate Cancer Detection and Treatment
At our prostate cancer detection and treatment, we encourage our patients to always ask so they can come up with informed decisions. Call us now at 877-605-2737 or fill out this contact form to request a consultation. We look forward to helping you get the most suitable treatment following your diagnosis of prostate cancer.
Download Our Free Ebook: "How to Manage Prostate Cancer Anxiety"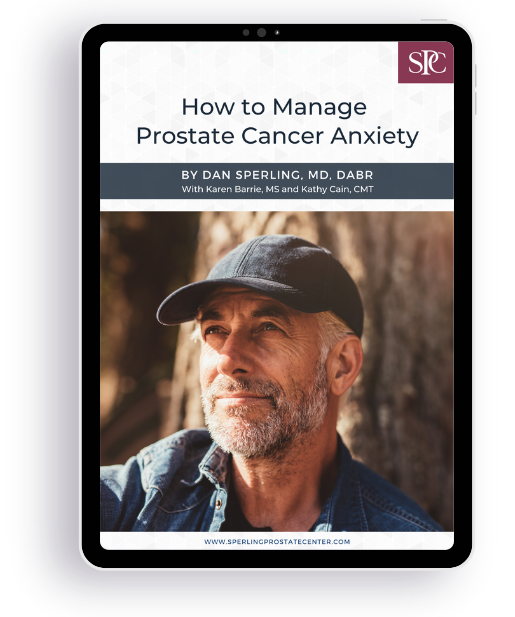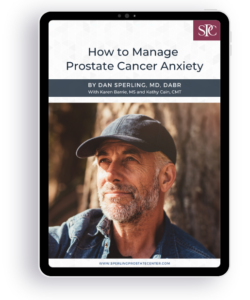 Don't let anxiety over prostate cancer run you. Instead, learn how you can take charge and empower yourself to manage stress and boost positive treatment outcomes with our "first aid kit" of practical tips and tools.
DOWNLOAD NOW