In recent years, there's been a huge groundswell of Active Surveillance (AS) for low-risk prostate cancer (PCa) patients. In fact, it's considered the preferred PCa management strategy for men with lower-risk disease. There are two primary factors at play: 1) patient resistance to undergoing definitive whole gland treatments that can impair urinary and sexual function, and 2) improved methods to qualify candidates for AS.
Let's look at the numbers. As we posted in a blog two years ago, between 2010 to 2015 use of AS among low-risk patients rose from 15% to 42%, while at the same time radical prostatectomy fell from 47% to 31%, and radiation decreased from 38% to 27%. For the most part, urologists have welcomed and supported this trend.
AS drop-outs
However, many patients quit AS. There are various reasons for this, and the duration of their term of AS also varies. A new multi-institutional North American study of 6775 men initially managed with AS sheds light on the motivation for going off AS.[i] Patients were categorized by risk level as follows:
| | |
| --- | --- |
| Risk level | Clinical factors |
| Low | Gleason grade group (GG) 1 (Gleason score 3+3), PSA <10, stage cT1, <3 biopsy cores |
| Intermediate | GG2 (Gleason 3+4), PSA 10-20, stage cT2 or 3 positive biopsy cores of any grade |
| High | ≥GG3 (≥ Gleason 4+3), PSA ≥ 20, stage ≥ cT3 or ≥ 4 positive biopsy cores of any GG |
By these classifications, the majority (68%) were low-risk, 21% were intermediate-risk, and 13% were high-risk. The average followup time for the study was 6.7 years, during which 33.4% of participants quit AS and converted to treatment. According to the authors, "The most common reason for conversion was grade reclassification alone (48.8%), followed by PSA progression (8.5%), tumor volume progression (7.2%), anxiety (5.0%) and other reasons (9.0%).
The clinical factors most linked with conversion were higher GG as shown by monitoring biopsy, risk in PSA, higher stage (tumor volume increase), the number of biopsy cores positive for PCa, and more recent year of diagnosis. What's interesting is the fact that 5% of patients quit AS due to anxiety.
We believe there are three inner struggles that underlie anxiety on AS: fear of dying, lifestyle stress, and the impact on relationships. Living with cancer in one's body can take a psychological toll. For some men, this can influence their choice to quit AS as much as learning that their tumor is increasing in volume.
FLA – an alternative to AS
There is another option that is a middle ground between whole gland definitive treatment and delaying treatment on AS. It's called Focal Laser Ablation (FLA). This outpatient, MRI-guided procedure offers precise cancer control and at the same time preserves healthy prostate tissue as well as urinary and sexual function. In turn, a modified monitoring protocol using PSA and multiparametric MRI of the prostate provides a kind of insurance policy against potential recurrence.
Men who are candidates for AS are also candidates for FLA. Destruction of the primary tumor, or index lesion, affords durable freedom from PCa at rates comparable to whole-gland treatment. Not only does this enable PCa patients to preserve their urinary and sexual function, it brings peace of mind that alleviates anxiety. Who wants to wait for the other shoe to drop? Gone are the fear and worry that cancer may be growing and becoming more aggressive in your own body. At the same time, preserving quality of life means enjoying one's life priorities.
If you or a loved one receives a diagnosis of low-risk PCa, and the doctor is recommending AS, consider the option of FLA. Contact Sperling Prostate Center for more information.
Download Our Free Ebook: "How to Manage Prostate Cancer Anxiety"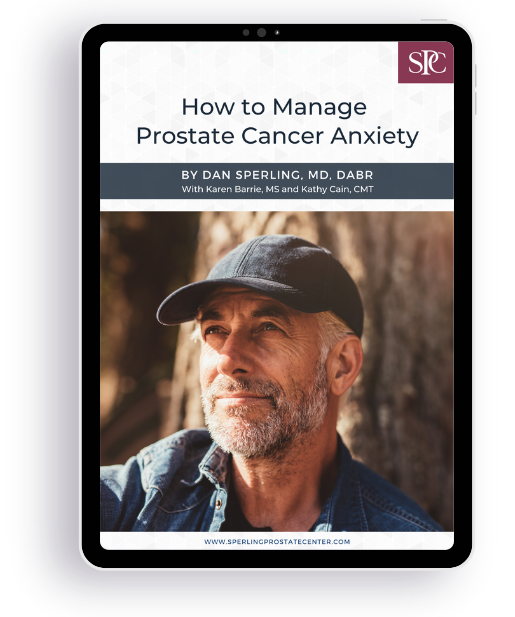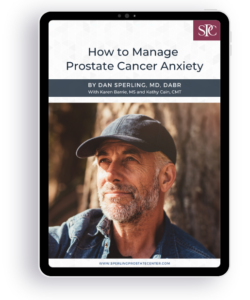 Don't let anxiety over prostate cancer run you. Instead, learn how you can take charge and empower yourself to manage stress and boost positive treatment outcomes with our "first aid kit" of practical tips and tools.
DOWNLOAD NOW
NOTE: This content is solely for purposes of information and does not substitute for diagnostic or medical advice. Talk to your doctor if you are experiencing pelvic pain, or have any other health concerns or questions of a personal medical nature.
[i] Cooley LF, Emeka AA, Meyers TJ, Cooper PR et al. Factors Associated with Time to Conversion from Active Surveillance to Treatment for Prostate Cancer in a Multi-Institutional Cohort. J Urol. 2021 Nov;206(5):1147-1156.