Once called the sport of kings, thoroughbred racing is not as popular as it once was. Still, every once in a while, a racing event comes along that sparks public interest and imagination. Secretariat, the 1973 winner of racing's Triple Crown, was so famous that year that he made the June 11 cover of Time.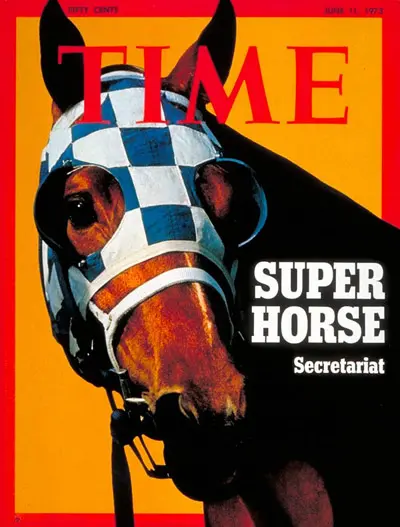 As an ESPN writer noted, "Seldom does performance match excessive expectation." But ever since all the hoopla faded, Americans have by and large lost interest in the ponies, in favor of other sports.
There was a time, however, when horseracing boosted Americans' spirits and distracted them from struggles. The Great Depression that followed the Roaring Twenties saw millions plunged into poverty. Racing was a diversion from their pain, and it came with the gambler's dream of winning big by placing a small bet. "With the economy in shambles, businesses folding, and unemployment rising, many Americans were pinning their hopes on Thoroughbreds," states a 2011 Saturday Evening Post article.
One particular Depression-era racing event was "The Match of the Century," the one-on-one match race between outlier Seabiscuit vs. blueblood War Admiral. 40,000 fans crammed into Pimlico racecourse, and 40 million more dropped everything and tuned in their radios. There were other stakes besides betting. It was a social competition between an outsider and the sport's establishment. In the end, Seabiscuit became a national hero when he outran a favored competitor. His win upended cherished racing traditions—and did so in style by breaking the track's speed record!
A match race between TRUS and MRI
An analogous "competition" is occurring in the field of prostate imaging, but it's not a one-time event. It's more of an evolving, evidence-based process to determine which gives better information: established transrectal ultrasound (TRUS) or multiparametric MRI (mpMRI). To examine how well each does image-based estimates of prostate volume and prostate specific antigen density (PSAD), let's go from a 1938 racecourse in Baltimore to a 2023 academic clinical study completed in Chicago.
A team of urologists and radiologists out of the Windy City's Northwestern University Feinberg School of Medicine and Loyola University Medical Center pitted the performance of TRUS against mpMRI, as well as their subsequent impact on prostate cancer (PCa) detection.[i]For 640 men who had both types of scans, the authors report that "TRUS underestimated prostate volume relative to mpMRI with 8% lower volume per cc up to 77.5cc and 39% lower volume per additional cc above 77.5cc." Among men who had prostatectomy, when the surgical specimens were analyzed, mpMRI PSAD correlated better with the pathology specimens than TRUS. Also, "mpMRI PSAD had slightly higher odds vs TRUS PSAD for detecting any PCa…" However, for prostates equal to or larger than 77.5cc, PSAD was not associated with PCa detection. Thus, they concluded, "TRUS underestimates prostate volume relative to mpMRI. PSAD based on mpMRI may be better associated with detection of PCa compared to TRUS, but utility of PSAD may be limited for larger prostates."
For nearly two decades, the world of PCa detection and diagnosis has seen the traditional TRUS imaging gradually overtaken by mpMRI, which began as an outlier but which has now taken the lead: first by a nose, then by a neck, and now widening the gap just as Secretariat's home stretch runs did in his Triple Crown victories.
To return to the idea of performance matching excessive expectation, I want to emphasize that prostate imaging is hardly a sports event. The stakes are, of course, high—no one wants to receive a diagnosis of cancer—but accurate imaging can actually be a patient's hero when it provides key information regarding the size, location, stage and even aggression level of a PCa tumor. It has exceeded the expectations of radiologists like myself who foresaw the role it would play. Along with other relevant clinical factors and lifestyle considerations, it becomes the basis for prioritizing treatment choices. In the race against PCa, mpMRI is the imaging of choice to give each patient the best odds of winning. You can bet on it!
NOTE: This content is solely for purposes of information and does not substitute for diagnostic or medical advice. Talk to your doctor if you are experiencing pelvic pain, or have any other health concerns or questions of a personal medical nature.
[i] Choe S, Patel HD, Lanzotti N, Okabe Y et al. MRI vs Transrectal Ultrasound to Estimate Prostate Volume and PSAD: Impact on Prostate Cancer Detection. Urology. 2023 Jan;171:172-178.