Can MRI outperform other screening methods for clinically significant prostate cancer? At the Sperling Prostate Center, we know the answer is yes because we see it with our own eyes. As the saying goes, "Seeing is believing." Traditionally, the PSA blood test has been used to screen for prostate cancer, and indeed, it has historically been a factor in saving lives. Before the PSA era, there was no effective way to screen for prostate cancer that required immediate attention.
If you want to quickly grasp the impact when the PSA blood test was introduced, see for yourself:[i]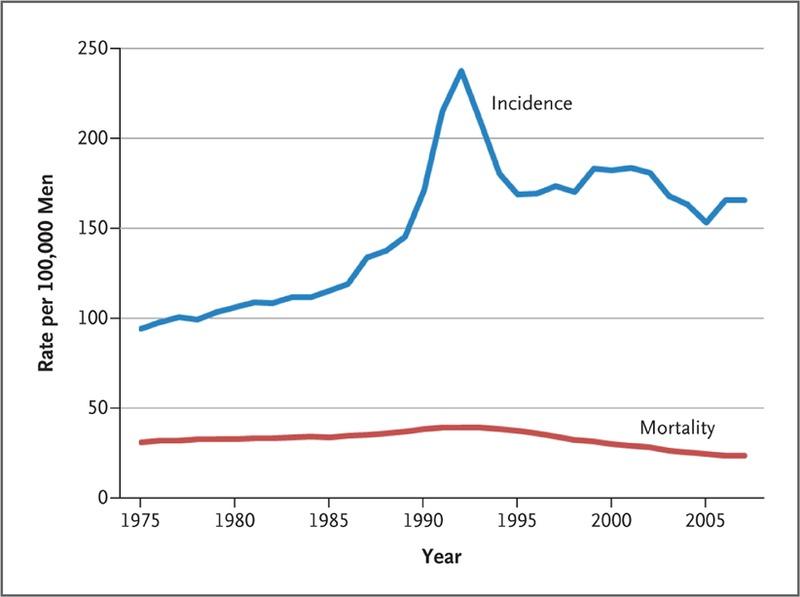 After 1990, the blue line shows a sudden spike in the U.S. incidence of prostate cancer, reflecting the beginning of the PSA era. Practically overnight, the blood test started picking up hundreds of thousands of cases that would have gone unidentified until symptoms appeared, then quickly normalized to a lower level but still higher than pre-PSA.
PSA problems
The problem with the PSA test as a screening tool is its lack of specificity. It not only picks up suspicion of clinically significant prostate cancer, it also picks up elevated PSA due to things like prostatitis, BPH, sexual activity the night before the blood draw…even bike riding! If prostate cancer is present, PSA is not sensitive to risk level. Thus, men with low-risk disease that, in today's world might be handled with Active Surveillance, instead have had surgery or radiation that left untold thousands with incontinence and ED. According to Eldred-Evans, et al. (2020), "Although screening by serum PSA levels can reduce prostate cancer-specific mortality, it is unclear whether the benefits outweigh the risks of false-positive results and overdiagnosis of insignificant prostate cancer, and it is not recommended for population-based screening."[ii]
Still looking at the graph, despite the rather erratic activity of the blue line after 1995, take a look at the red line, which is the death rate specifically from prostate cancer. Within a couple of years after the initial wide use of the test, the death rate gradually begins to diminish. We may conclude, then, that early detection saves lives. And yet, a government task force began discouraging use of the PSA precisely because of the harms that befell men with clinically insignificant disease that were still treated as if their lives depended on whole gland therapies, but at the price of their quality of life.
Image-based detection of clinically significant prostate cancer
During the past decade, while use of PSA screening remained problematic, imaging technologies improved. In particular, inexpensive ultrasound that can be used in a urology office enjoyed some advances that made it attractive as a potentially more specific screening tool than PSA. At the same time, MRI scanning sequences offered image-based tissue analysis unmatched by ultrasound.
The use of two—or even better, three—MRI imaging sequences (parameters) began making accurate characterization of suspicious prostate lesions feasible. In fact, multiparametric MRI has now been repeatedly shown to eliminate the need for a prostate biopsy unless the imaging reveals significant prostate cancer.
Comparison study puts PSA, ultrasound and MRI to the test
Now, another research team led by Eldred-Evans has published their results with the IP1-PROSTAGRAM Study, designed to "…compare the performance of PSA testing, MRI, and ultrasonography as screening tests" for prostate cancer.[iii] 408 men representing the general population participated in all three screening tests (PSA, ultrasound, and MRI using 2 parameters or biparametric MRI). If any test was positive, the participant underwent a conventional 12-core TRUS biopsy. If either bpMRI or ultrasound was positive for prostate cancer suspicion based on a 5-point scale, an additional fusion-guided targeted biopsy was performed.
Based on an analysis of the screening tests and biopsies, the authors concluded:
MRI using a score of 4 or 5 to define a positive test result compared with PSA alone at 3 ng/mL or higher was associated with more men diagnosed with clinically significant cancer, without an increase in the number of men advised to undergo biopsy or overdiagnosed with clinically insignificant cancer. There was no evidence that ultrasonography would have better performance compared with PSA testing alone.[iv]
In other words, MRI was a more effective and selective screening tool of the general population than PSA with a cutoff threshold at 3 ng/mL or higher. Ultrasound offered no evidence of better detection of clinically significant prostate cancer than the blood test alone.
In our Center, these results amount to a no-brainer. When we capture a portrait of a man's prostate, the evidence is before our eyes to justify a decision to biopsy or not. Furthermore, our in-bore (real-time) MRI-guided targeted biopsy is not only more accurate than conventional 12-core TRUS biopsies, it is also kinder to the prostate gland, since precision means fewer needles directed into the lesion core most likely to harbor aggressive prostate cancer. It's good to know that published research validates our experience.
NOTE: This content is solely for purposes of information and does not substitute for diagnostic or medical advice. Talk to your doctor if you are experiencing pelvic pain, or have any other health concerns or questions of a personal medical nature.
[i] Hoffman R. Screening for Prostate Cancer. N Engl J Med. 2011 Nov;365:2013-2019.
[ii] Eldred-Evans D, Tam H, Sokhi H, Padhani AR et al. Rethinking prostate cancer screening: could MRI be an alternative screening test? Nat Rev Urol. 2020 Sep;17(9):526-539.
[iii] ldred-Evans D, Burak P, Connor MJ, Day E et al. Population-Based Prostate Cancer Screening With Magnetic Resonance Imaging or Ultrasonography: The IP1-PROSTAGRAM Study. JAMA Oncol. 2021 Feb 11.
[iv] Ibid.