Recurrent Prostate Cancer Treatment
3T Multi-Parametric MRI – BlueLaser™ provides an effective, precise way to detect and treat recurrent prostate cancer after radiation or HIFU therapy.
Recurrent prostate tumors after failed radiotherapy (Cyberknife, IMRT, or Proton Beam Therapy) or HIFU can be difficult to detect due to dramatic changes in prostate gland architecture that occur after these treatments. Recurrent tumors can be quite small, but with 3T Multi-Parametric MRI imaging and MRI-Guided Biopsy early, accurate detection is possible.
At Sperling Prostate Center, real-time MRI imaging of the highest resolution is employed in the most accurate, least invasive methods of detecting and treating prostate cancer. This technology ensures the minimum potential exposure and damage to the prostate and surrounding tissue by targeting tumors with pinpoint accuracy—even those that can't be seen using conventional imaging.
3T mpMRI-Guided Focal Laser Ablation (FLA) to destroy residual tumors is a powerful option that should be explored by recurrent cancer patients. It is particularly worthwhile for men who have other health conditions that might impair their ability to recover from a surgical procedure, due to its minimally invasive process. Similarly, 3T mpMRI-Guided Focal Laser Ablation has been used successfully as a secondary local therapy for men who previously underwent radiation therapy or HIFU.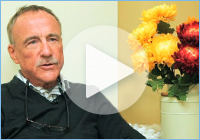 Patient Reviews
Explore more reviews and testimonials from our patients—up close, honest, and personal. Go to Patient Stories »
Side effects of MRI-Guided Focal Laser Ablation are significantly milder compared with standard prostatectomy—even when used after radiation therapy. Rates of erectile dysfunction, urinary incontinence, and pelvic pain following focal laser ablation are extremely low, and patients are able to return to normal activity remarkably quickly.
Are you a recurrent prostate cancer patient, or concerned about recurrence?
Contact Sperling Prostate Center to schedule a free consultation with Dr. Sperling. We will review your unique circumstances together to find out if you are a candidate for MRI-guided biopsy or FLA.