MRI-Guided Focused Ultrasound (MRgFUS) For Focal Prostate Cancer Treatment
Sperling Prostate Center to Participate in International Clinical Trial
The Sperling Prostate Center, part of the Sperling Medical Group family of practices, is a global leader in 3T multiparametric MRI detection and diagnosis of prostate cancer. Dr. Dan Sperling is the leading authority in bore MRI-guided Focal Laser Ablation (FLA) of prostate cancer tumors. The Sperling Prostate Center is pleased to contribute these expert resources and advanced technology as a participating research location with the Phase 2 and 3 clinical trial titled "Focal ExAblate MR-Guided Focused Ultrasound Treatment for Management of Organ-Confined Intermediate Risk Prostate Cancer."
About MRI-Guided Focused Ultrasound (MRgFUS)
MRgFUS is the integration of two groundbreaking technologies into a precise, noninvasive treatment that destroys (ablates) the targeted tumor and surrounding tissue while sparing healthy structures. Real time MRI provides visualization of the anatomy and tumor, and uses thermometry (measuring the tissue temperature during ablation) to monitor treatment accuracy and effectiveness while focused ultrasound is being delivered. Since ultrasound is delivered from outside the body, there is no surgery or radiation.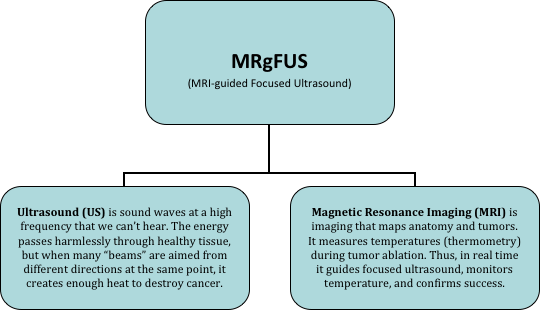 MRgFUS minimizes the risk of side effects. Patients return to normal life in a day or two, and maintain their quality of life.
The Focal Exablate MRgFUS Clinical Trial
The MRgFUS device used in the clinical trial is the ExAblate™ MRgFUS (InSightec Ltd.). The Focal ExAblate MR-Guided Focused Ultrasound Treatment for Management of Organ-Confined Intermediate Risk Prostate Cancer study is "intended to show that ExAblate™ MRgFUS is a safe procedure that can significantly postpone or eliminate the need of patients with organ confined intermediate risk prostate cancer to undergo a definitive treatment (i.e., Radical Prostatectomy or Radiation therapy) for their disease." This means that prostate cancer patients with proven Gleason score 4 + 3 or 3 + 4 who meet all additional eligibility requirements will receive treatment preparation, MRgFUS and follow-up. Click to learn about eligibility.
Key Benefits of MRgFUS ExAblate Treatment for Prostate Cancer
Low complication rate
Non-invasive treatment, patients back to their life within a day or two
Non-ionized radiation
Single session therapy
Real time MR thermometry monitoring that is used to control treatment outcome during treatment
According to InSightec, "The ExAblate system, which has been in clinical use for the treatment of uterine fibroids globally and bone metastases outside of the US, is an Image Guided, Non-invasive, Robotic Acoustic Surgery system integrating real time MRI to visualize the tumor, surrounding tissue and the energy delivery path, together with high intensity focused ultrasound beam, which is delivered with millimeter precision to destroy the cancerous tumor without damaging surrounding tissue, which is the cause of most complications. The use of real-time 3D MR thermometry provides accurate closed-loop monitoring of the treatment outcome and ability to adjust the treatment according to specific patient physiology, in real time."
This study will evaluate the proportion of patients with organ-confined intermediate risk prostate cancer (OC-IRPC) undergoing focal ExAblate™ MRgFUS prostate treatment that will be free of clinically significant PCa which requires definitive treatment at 2 years after completion of their ExAblate™ treatment and to demonstrate the safety of focal ExAblate™ MRgFUS treatment.
Up to 50% of the prostate gland will be treated. Treatment will include the Index lesion which is visible on MRI + tumor free margins of 3-mm; tumor free margins will not extend beyond the posterior aspect of the prostate capsule.
Urethral and bilateral neurovascular bundle preservation will be preferred whenever clinically justified.